Jul 31st Kickball Tournament Co-ed Lite 10v10
| | |
| --- | --- |
| Start Date | Jul 31, 2021 - Jul 31, 2021 |
| Games Times | 6PM - 2AM |
| Level of Play | Open |
| Day of the Week | Saturday |
| Location | Sports Park Tucson |
| | |
| --- | --- |
| Duration | 1 Day |
| Blackout Dates | |
| Format | 10v10 |
| Gender | Co-ed Lite |
| Type | Tournament |
Playoff Roster Registration Closes:
Jul 24th Kickball Tournament Co-ed Lite!
Here is what to expect:
3 Game Guarantee
$3 entry fee to get into Sports Park
1st place will get $300 worth of prizes, a Trophy and a Winner Photo (5 teams required)
Reminders of some core rules for co-ed lite:
A minimum of 3 women must be on the field for defense - more than 3 is up to each team. (Yes being a catcher counts as defense:))
Batting order can have no more than 3 males in a row - this applies to any size batting order.
Any number of extra hitters is allowed as long as the batting order rule above is followed.
Intentional Walks are permitted (see rules below).
Any type of walk to a male batter with NO FEMALE BATTER directly behind them results in the male batter going to 1st base.
Any type of walk to a male batter with a female batter behind them results in the male batter going to 2nd base. If there are 2 outs when this occurs the female batter has an option to take a walk instead of hitting.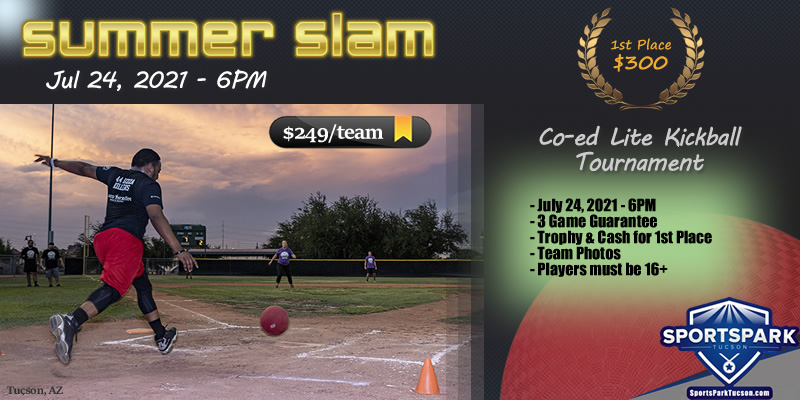 Special Thanks to Our Event Sponsors!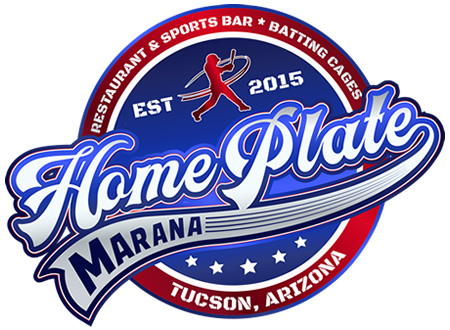 Home Plate Marana
Payments
All Registrations must be Paid-in-Full 24 hours before the start date of the League/Tournament. This allows us to create a more accurate schedule. We will no longer be accepting Cash payments. Team Captains and Team Members can both make payments for their team online. This option is available for authenticated users under the "Registrations" tab. All Team Members will be required to create an account online and sign the participation waiver before they are eligible to play. All payments are made securely through PayPal and you do not need a PayPal account to pay through the PayPal website. PayPal has several payment options including Credit and Debit.
Schedules
The schedules cannot be built until we know how many and which teams are going to be registered and paid up. Registrations typically close 24 hours before the league start date. This is also the time that we start building the schedule, so the schedule is typically posted on the website 24 hours before the league start time. Only the teams that have paid will be added to the schedule.
Thank You To Our Partners